"He Showed Himself Alive!"
The Proof of Fact and the Proof of Revelation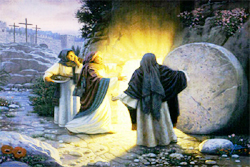 "To whom He also showed Himself alive after His passion by many proofs, appearing unto them by the space of forty days, and speaking the things concerning the kingdom of God..." (Acts 1:3)

The Biblical record puts it quite clearly: Jesus the Christ of Nazareth was crucified, dead and buried but astonishingly rose from the dead on the third day. He was perfectly fulfilling all the related prophecies concerning this remarkable event of His Atonement and Victory over Satan, Sin and Death.

The above verse taken in conjunction with the familiar accounts from the gospel writers and the following passage from the Apostle Paul's letter to the Corinthians gives us the details as to how the Lord gave unmistakable evidences or proofs that attest to the fact of His awesome Resurrection. Above all else, the plain yet sudden appearances of the Lord in His physical body readily proved to many that he was indeed risen.

"For I delivered unto you first of all that which I also received, how that Christ died for our sins according to the scriptures; And that He was buried, and that he rose again the third day according to the scriptures: And that he was seen of Cephas, then of the twelve: After that, He was seen of above five hundred brethren at once; of whom the greater part remain unto this present, but some are fallen asleep. After that, He was seen of James; then of all the apostles. And last of all He was seen of me also, as of one born out of due time." (1 Corinthians 15:3-8)

The immediate question then before us is:
Has the Risen Christ appeared to me personally, in His Risen body?

Now, we need not have been there physically 2000 years ago to bear witness to His physical Resurrection. In the Book of John, the Lord said to Thomas, " ...blessed are they that have not seen, and yet have believed."

"Then the same day at evening, being the first day of the week, when the doors were shut where the disciples were assembled for fear of the Jews, came Jesus and stood in the midst, and saith unto them, Peace be unto you. And when He had so said, He

shewed

unto them His hands and His side. Then were the disciples glad, when they saw the Lord. Then said Jesus to them again, Peace be unto you: as my Father hath sent me, even so send I you. And when He had said this, He breathed on them, and saith unto them,

Receive ye the Holy Ghost:

Whose soever

sins ye remit, they are remitted unto them; and whose

soever

sins ye retain, they are retained. But Thomas, one of the twelve, called

Didymus

, was not with them when Jesus came. The other disciples therefore said unto him, We have seen the Lord. But he said unto them, Except I shall see in his hands the print of the nails, and put my finger into the print of the nails, and thrust my hand into His side, I will not believe.

And after eight days again his disciples were within, and Thomas with them: then came Jesus, the doors being shut, and stood in the midst, and said, Peace be unto you. Then saith He to Thomas, Reach hither thy finger, and behold my hands; and reach hither thy hand, and thrust it into my side: and be not faithless, but believing. And Thomas answered and said unto Him, My Lord and my God. Jesus saith unto him, Thomas, because thou hast seen Me, thou hast believed: blessed are they that have not seen, and yet have believed. And many other signs truly did Jesus in the presence of His disciples, which are not written in this book: But these are written, that ye might believe that Jesus is the Christ, the Son of God; and that believing ye might have life through His name." (John 20:19-31)

When we put aside our own, carnal philosophies and vain conjectures, and submit humbly to the Revelation of God in Christ Jesus concerning the greatest victory of all time as embodied in the death and Resurrection of the Son of God, then we will be transformed. We begin to bubble over with this most wonderful Truth. So much so that we can hardly contain it. We begin sharing it with others. This is what actually constitutes the way to Salvation for individuals by the way, according to the Book of Romans 10:9-11:

"That if thou shalt confess with thy mouth the Lord Jesus, and shalt believe in thine heart that God hath raised Him from the dead, thou shalt be saved. For with the heart man believeth unto righteousness; and with the mouth confession is made unto salvation. For the scripture saith, Whosoever believeth on Him shall not be ashamed."

Let us not forget that His Resurrection shows or declares with awesome Power that He is indeed the very Son of God!

"Concerning His Son Jesus Christ our Lord, which was made of the seed of David according to the flesh; And declared to be the Son of God with power, according to the spirit of holiness, by the resurrection from the dead ..." (Romans 1:3-5)

Now, the Prince of Darkness and Doubt is a clever devil indeed. Satan's "educated" guesses when studied intently and bought by haughty individuals against the clear light of the gospel will no doubt lead to the conferment of many a PhD in the miserable science of Self-Deception in a burning, Christless Hell.

Please consider the alternative, however: A child-like Faith in a Living King, Jesus Christ. Faith in the only One Who gives meaning to our lives down here on earth now and in the herafter above for all Eternity. One Who conquered all that can ever frighten us, all that would ever frustrate or confuse us. All worries and griefs and regrets. One Who, most importantly, pardons us of all sin and guilt. His Precious Blood bathes a wicked sinner like you and me in its cleansing power and removes even the very last blot of iniquity which would have incurred the wrath of a Holy God upon us.

A free gift of New Life available even this Easter, if one is willing to receive it like a child. No arguments, but a hands down, knees bent surrender to the Creator Who loved you so much that He went to death on a shameful cross bearing your sin and shame so that you can be free forever to live in perfect peace and holiness and victory with the Triune God.

Yes, Easter means New Life, thanks to a Risen Savior. A Lord and Savior Who backs up every promise He ever made by coming out of the grave, Alive from the dead, being enabled to enforce His New Covenant with all His people. Hallelujah! This Easter Sunday, let us peruse carefully the marvelous Truth of His Rising from Death, the last enemy. Let's read with reverence and wonder over the details given in the Word as quoted above of how our Blessed King of Kings patiently revealed Himself to His friends and brethren after His passion. How carefully He unveils His Resurrection to us believers throughout the centuries by revelation.

We ought to be living like we believe it if indeed we do. In holiness and sincere gratitude.

If the Easter story is not exciting to you friend, then you'd better check your relationship to the Lord. Contrary to the heart of the Easter message, you are either dead or you are dying! But you will come alive (again) if you believe, joyfully receiving the Word of God.

Yes, it is worth repeating a million times!

We have genuine Joy and real Hope because, He has shown Himself Alive... by many proofs! We will rise from the grave one day because He arose from the grave.

The most important proof of Jesus' Resurrection for you and me and also the world for that matter, is nothing less than the following:

A Living Lord Jesus living right within our hearts and manifesting His Resurrection Life of Love and Faith and Purity.

Yes, because He lives, we will reign in Everlasting Life as kings with Him. Praise be to our Wonderful Savior!
© 2003, 2022 Dr. Pradeep Stephen
[Permission is granted to duplicate this article in its entirety, but only without additions, alterations or omissions of any kind, including the author and ministry name at the end.]